Dave's Trains - Current Events
January 13
CSX 3233 leads Q217 westbound at Shen.
NS 8026 leads 211 southbound at Shenandoah JUnction, WV.
NS 7655 leads 227 northbound out of the siding at the Junction after meeting 211.
CSX 3356 leads I135 westbpund at Shen.
CSX 534 smokes it up as the DPU on I135.
CSX 5463 leads Q415 eastbound at Shen.
NS 4170 leads 13R southbound at the H22.
My photographs at Railpictures.net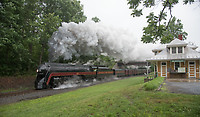 NW 611
DMIR 409 (trailing) Miss Shirley ATSF SD45 ABBA Juice train on NS
CSX Xmas card NS ABA F9s NS ABBA F9s GM50
Thomas w/o face SD60 smoking GM70 Demo NW 611
CSX Transportation NW 1218 PRR 1223 and 7002 SR 4501
SR 4501 Thomas WMSR 734 WMSR 734
NS bug spraying RF&P 123 Orange Blossom Special RF&P 145
CSX on NS B-line GTW 90 & 31 Ford CSX 686 w/ juice RF&P 133 on Amtrak
C&O 614 Dash 9 fire SR FP7s WMSR 734 NS ABB F92
B&O 3802 Trains unit CSX 651 w/ K651 CSX on B-line CSX 70ACe MARC rainbow NW 1218
CR 80MAC SR 4501 SR 4501 Thomas UP SD90 on Sandpatch
All photographs and descriptions are copyright 1980-2021 by David B. Davies. All rights are reserved.
Free Hit Counters