Dave's Trains - Current Events
September 16
NS 9487 leads 228 southbound at Cedarville, VA. Not sure if he picked-up at VIP or not. VIP K89, and the signals at Success and Ashby are now called using the old SR frequency of Ch.56, rather than the NW Ch 22. Sounds like the whole Hagerstown District will be going to Ch 56.
NS 7608 leads 12R northbound at Cedarville,past 228, which has been stopped at Ashby for 75 minutes.
NS 3651 leads 13R southbound at Cedarville.
The setting sunlights up NS 8175 leading 780 southbound. This was the setting I was out to get SR 8099 leading 955, but alas, as it got darker, he had never left Vardo. :-(
NS 8120 the the rear DPU on 780.
September 14
CSX 3471 leads W086 Herzog eastbound at Shenandoah Junction, WV.
NS 4260 leads 13R southbound at the H22.
NS 7570 is 13R's DPU.
Looks like a really good crop at the orchard, some of the branches are so heavy they are touching the ground.
NS 3661 leads 202 northbound at Luther Jones Road.
Amtrak 145 leads P030 eastbound about to enter Rutherford curve. She is alone today, but at least the stripes now match between the engine and baggage.
NS 9665 leads 228 southbound.
NS 6981 leads a rail train northbound past the H22 stick.
NS 1020 leads 203 southbound.
September 13
CSX 3270 leads T315 eastbound at Shenandoah Junction, WV.
CSX 3387 is the rear DPU on T315.
CSX 585 leads Q414 westbound at Shen.
NS 7567 leads 211 southbound at the H22.
CSX 3420 leads Q217 westbound at Shen.
NS 1024 leads 13R southbound past the H22.
CSX 3066 leads N769 eastbound at Shen.
NS 9807 leads 227 northbound at Luther Jones Road.
NS 4059 leads 228 southbound after meeting 227 at Shepherdstown..
NS 3604 leads 203 southbound at the H22.
My photographs at Railpictures.net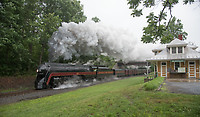 NW 611
DMIR 409 (trailing) Miss Shirley ATSF SD45 ABBA Juice train on NS
CSX Xmas card NS ABA F9s NS ABBA F9s GM50
Thomas w/o face SD60 smoking GM70 Demo NW 611
CSX Transportation NW 1218 PRR 1223 and 7002 SR 4501
SR 4501 Thomas WMSR 734 WMSR 734
NS bug spraying RF&P 123 Orange Blossom Special RF&P 145
CSX on NS B-line GTW 90 & 31 Ford CSX 686 w/ juice RF&P 133 on Amtrak
C&O 614 Dash 9 fire SR FP7s WMSR 734 NS ABB F92
B&O 3802 Trains unit CSX 651 w/ K651 CSX on B-line CSX 70ACe MARC rainbow NW 1218
CR 80MAC SR 4501 SR 4501 Thomas UP SD90 on Sandpatch
All photographs and descriptions are copyright 1980-2019 by David B. Davies. All rights are reserved.
Free Hit Counters