AROUND LAS VEGAS
The unused ex-Amtrak depot at the Plaza Hotel is still there but there is no access to the tracks (fenced off) and there are no really decent photo spots in the downtown area. Main Street Station casino has a couple of private cars on display. At the north end of their building, near the parking garage, is a dome car named Orlando Dawn, originally built as number 9000 for the U.P. in 1955.
The U.P. yard office is located on Charleston Blvd. This is a crew change point and most all trains will stop here.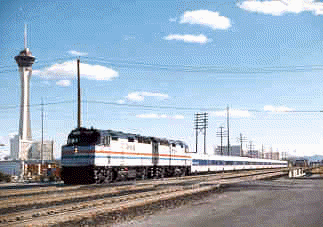 The photo at left, with the Stratosphere Tower as background was taken from the Yard office. The train is one of Amtrak's Talgos on a publicity visit to Las Vegas in 1996. (The promised daily service to L.A. never happened)!
Below, two views of the American Orient Express passing through town in June 2002.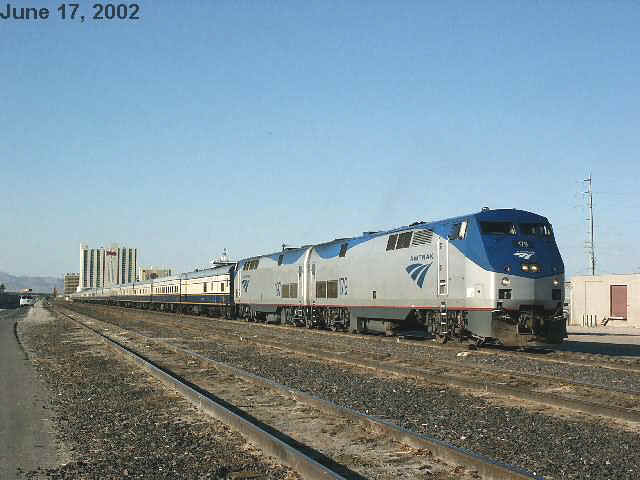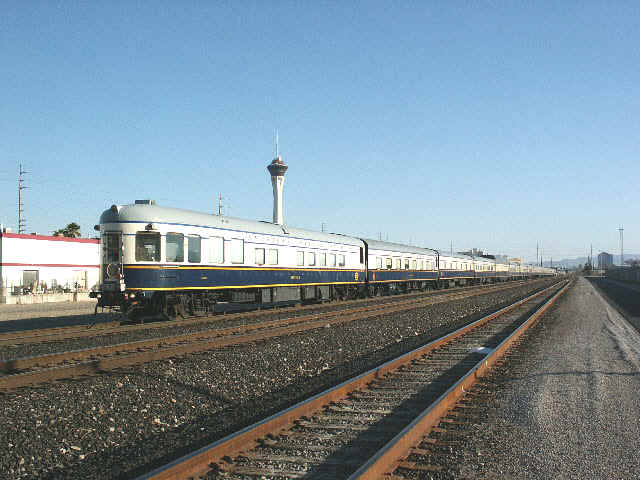 At the yard office, as long as you keep a respectable distance from the tracks and equipment you probably won't be bothered; however, you may be approached by an unfriendly "Special Agent" and told to leave the property. There is a grade crossing at nearby Wyoming Street you can shoot from but it is not a great photo location.
The U.P. tracks parallel the Las Vegas Strip, just to the west of Industrial Road, from Sahara Avenue to Flamingo Road, where they swing a little west before reaching Tropicana Avenue. There is generally easy access from Industrial Road between Desert Inn Road and Flamingo.
Here is a spot that's easy to reach. Just turn south (left) on Valley View Blvd off Flamingo Road by the Rio Hotel. Easy parking right by the tracks. click for map
| | |
| --- | --- |
| | |
| U.P. passenger special enroute to L.A. in February 2001. Consist was 951, 963B, 949, Portola, St. Louis, Green River, Powder River, Walter Dean, Selma. | U.P. 4164 west pulling up the grade past the Rio Hotel. |
This is a favorite spot south of Tropicana Avenue that I've "worked" many times, using the Rio Hotel as a backdrop again. It is reached by taking Arville south (left) off Tropicana Avenue a short distance to Reno Ave., then left again. You can drive right up to the tracks.
| | |
| --- | --- |
| This was a U.P. Operation LifeSaver train in September 1999. The device on the front handrail is a TV camera to allow passengers to see what the Engineer sees as they approach grade crossings. | |
| | |
| --- | --- |
| WB auto-rack train loaded with Ford vehicles, taken in February 1999. Power was C&NW 8648, 4277 and SP 8372. | UP 3985 steams westward with a passenger special bound for Los Angeles on August 5, 2000. |
Further south, on Russell Road (a major east-west artery that goes under the tracks) there is access by climbing up the embankment. Just south of here the BMI branch from Henderson joins main track 2. The branch is worked by locals ("LZM" designations) that service the industrial complex in Henderson. Speed limit is 15 mph and there is no set schedule so it's pretty much hit or miss on catching a train. The morning local usually goes down around 8:00am (on your scanner, if you here the LZM48 or 40 ask the dispatcher to leave Arden east for the BMI branch you'll know he's coming) and returns around 2 or 3pm.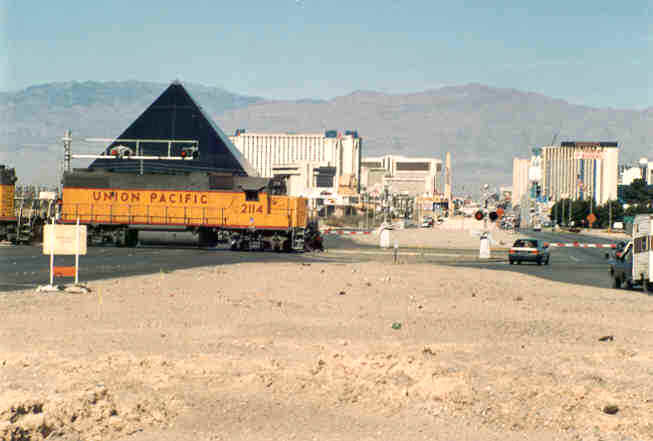 The branch crosses the South end of the famous Las Vegas 'Strip' and runs past the southern end of McCarran airport. This is the LZM48 local crossing the Strip with 55 cars on it's way to Henderson in 1992.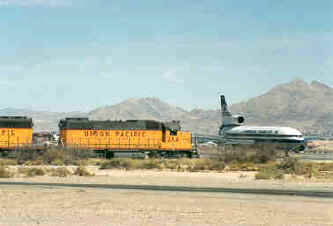 "Train meets Plane." Train heading down the BMI branch. Plane about to do a 180 and takeoff on runway 01 at McCarran airport. The tracks have since been relocated about one quarter mile south to accommodate airport expansion.
LZM40 local crossing Eastern Avenue, heading
east to Henderson with a string of cars.
December, 2004.
| | |
| --- | --- |
| | Click on image for larger view |